Tiny Houses: Living in the smallest of spaces
Trying something new, conserving resources, protecting the environment and having the freedom to move on at any time – there are many reasons why people live in Tiny Houses. For Janka Riedel, it is the desire for freedom. An interview with the architect and client about luxury and living in a Tiny House.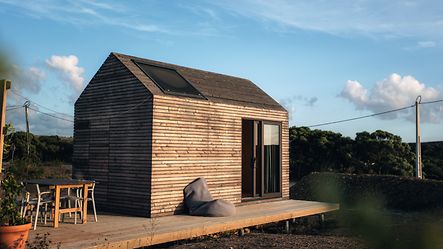 What fascinates you about the idea of a Tiny House?
Janka Riedel: For a very long time, my work has been heavily project-based and very location-oriented, which made the idea of a mobile house simply the response to the question of what I really need to live and work. My degree in spatial strategies at the Muthesius University of Fine Arts and Design in Kiel, where the teaching combines architecture and cultural anthropology, was an excellent foundation for taking a new approach to the "why" and "how" questions.
So what does that mean exactly?
Janka Riedel: There is the actual space with its four walls, and then there is also the "perceived" space. That is where the concept comes in. Despite the spatial overlap, the sleeping, living, relaxing, working, cooking and bathing areas must each function in their own right. In the Tiny House, all of these functions have a place within the 14.3 square metres.
What had to be taken into account during planning?
Janka Riedel: The basic idea was to create a transportable home. To achieve this, the Tiny House could be no larger than 2.40 metres wide and weigh no more than 3.5 tonnes. As inspiration, I looked at a range of prototypes with regard to resource consumption and sustainability, as the house would need to be adapted to the local climatic conditions.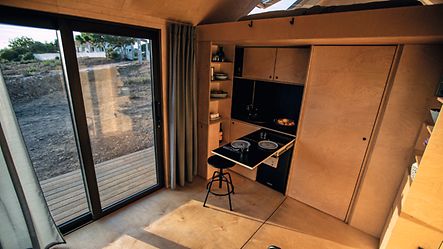 "The view is just beautiful. The large sliding door connects the inside with nature, allowing you to gaze far off into the distance. This spatial extension is essential for the concept, conveying a feeling of endless freedom despite the compact floor plan." – Architect and client Janka Riedel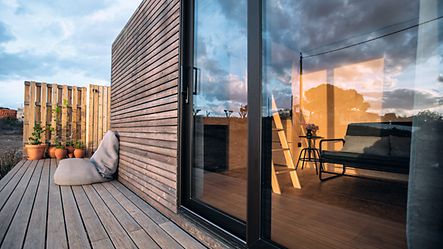 How was your Tiny House built?
Janka Riedel: For the construction, I chose a system made from timber sandwich panels, with the openings for the door and windows already machined out in the factory. The solid construction responds to the climate, providing protection from heat in summer and cold in winter. The interior design, such as the sleeping level, the multifunctional furniture and storage units, and the kitchen, were designed specifically for the house. My goal was to build the Tiny House myself – and I was able to do it with some help from colleagues and their workshops. All of the components were pre-installed in Germany and then assembled on site in Portugal. A façade made from horizontal larch wood panels surrounds the house and gives it a simple cubic look. As part of the ageing process, the larch wood will turn a shimmering silver colour.