Schüco AvanTec SimplySmart OpenSecure
Many break-in attempts are made through poorly secured windows. Burglar-resistant windows, however, frequently stop thieves in their tracks. How long and which tools a "security window" must be able to withstand during a break-in attempt is defined by resistance classes. The higher the resistance class, the better the protection. However, the majority of windows only provide protection when they are closed and locked. This is also an important criterion for insurance companies in the event of damage claims. Thanks to a new fittings system, Schüco now offers aluminium windows with burglar resistance in the tilt position too – up to resistance class RC 2, which is recommended by the police.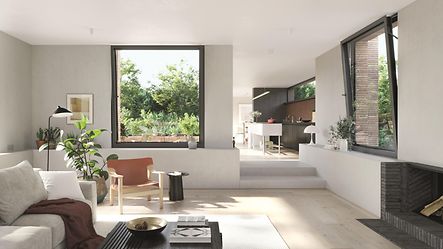 RC 2 burglar resistance even in the tilt position
In order to achieve this level of burglar resistance in the tilt position for Schüco aluminium windows, the new Schüco AvanTec SimplySmart OpenSecure fitting is used. In addition, the windows are designed with the tilt-before-turn function. To open the window in the tilt position, the locked window handle can be turned 90 degrees and then the window can be opened by up to 175 mm in the tilt position. This is enough to allow fresh air into the room during the day and overnight, without compromising on burglar resistance. If the window needs to be opened in the turn position for impact ventilation or cleaning, for example, the key has to be used. Only once the handle has been unlocked can it be turned a further 90 degrees upwards to allow the window vent to open fully. This avoids hazardous situations, as children and unauthorised users can only tilt the window, but not open it completely.
With its three components – the aluminium profile construction, the SimplySmart OpenSecure fitting and impact-resistant glazing – the window forms a complete unit that has been tested and certified by ift Rosenheim in accordance with EN 1627 to resistance class RC 2.
To allow RC 2 burglar resistance to be achieved not only when the window is closed but also when it is tilted, the fitting has five security components. Securing arms secure the window in the open tilt position, stops regulate the opening width, star inserts secure open screw heads and thereby prevent attempts at tampering, and the combination of an RC case and a keep with a latch secures the tilted window at the bottom. Important tip: inform your insurance company that the building is fitted with windows which offer burglar resistance to resistance class RC 2 in the tilt position as well.