Security – no matter what comes along. Or who.
Home is a place where we feel safe and secure. It's where we spend time with our loved ones and make some of our most treasured memories. Effective prevention against burglaries is essential to maintain the security and privacy of your own home. The right behaviour and security technology can prevent many break-ins.
Contrary to the popular belief that many burglars try to break in under the cloak of darkness, most burglaries actually occur during the day while no one is at home. Burglars are particularly fond of unsecured building openings that are easy to reach, like windows, patio doors, balcony doors and doors to apartments. Police experience shows, however, that you can effectively protect yourself against break-ins. In 2019, 45 percent of break-in attempts failed. Together with the police and partners from industry, commerce, local authorities and the insurance sector, Schüco is developing new security solutions which can be integrated in windows, doors and sliding doors.
Expert resistance
Anyone who is planning a newbuild or renovation project should opt for windows, doors and sliding doors which have been tested for burglar resistance and certified accordingly. Burglar-resistant units are divided into six resistance classes (RC) in accordance with the European standard DIN EN 1627. The rule here is: the higher the resistance class, the better the burglar resistance. Schüco windows, sliding doors and entrance doors are subjected to practical burglar resistance tests in the Schüco Technology Center. This ensures that there are no weaknesses in the overall construction.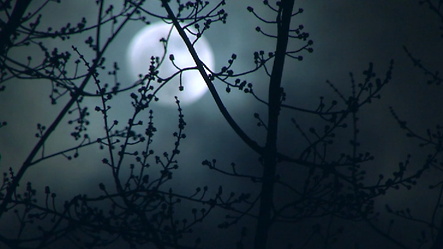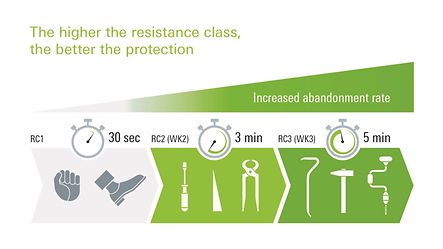 Secure products from Schüco
Schüco windows: secure and easy-to-use
Schüco windows: secure and easy-to-use
The wide range of products from Schüco offers extensive design options and a large selection of materials with which to create your window system. Different basic depths and compliance with thermal insulation standards up to classification as a passive house offer everything you could wish for. At the same time, a variety of RC security components provide a feeling of security in your own home: drill protection, locking bar fixing and anti-lift-out devices make the window gearbox hard to open. Modern lock technology and lockable handles offer a further safeguard against undesired break-ins through windows. Burglar-resistant glass is effectively fixed by means of glazing rebate fixing or bonding.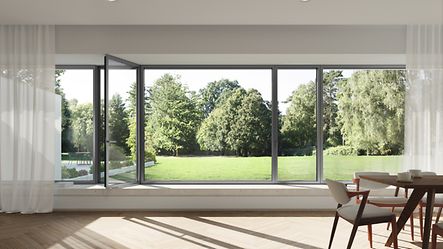 Schüco aluminium windows offer a wide range of fittings options. With high thermal insulation values to passive house standard and excellent stability, they are particularly well suited to accommodating large glass sizes. For clients with high requirements in terms of ease of use, the Schüco TipTronic SimplySmart concealed mechatronic fitting is the perfect choice. As well as manual operation using a handle or wall-mounted switch, mobile end devices such as tablets and smartphones can also be used to open and lock the windows. The modular security locking points of this fitting allow burglar resistance to RC 2 to be achieved.
Schüco PVC-U windows are available in different colours and thermal insulation levels up to resistance class RC 2. If burglar resistance is important to you, but you do not want to have to compromise on a good supply of fresh air, PVC-U windows with the Schüco VarioTec Air fitting could be just what you are looking for: window vents with this fitting can be opened by approx. 6 mm parallel to the window frame for a low but constant supply of fresh air. The additional benefits of this fitting and ventilation solution compared to a tilted window are plain to see: burglar resistance, significantly lower energy losses, improved protection against insects, noise and rain and even protection for pets. The parallel ventilation position does not attract burglars as it is barely perceptible from the outside.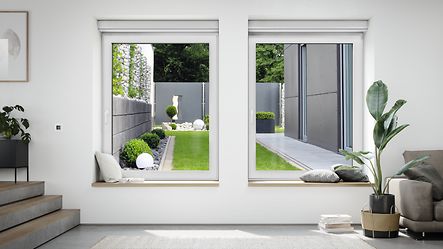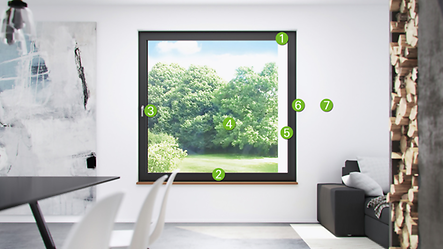 Security components
1. Suitable profile system
2. Anti-lever-out fitting with corresponding locking bar
3. Lockable handle
4. Burglar-resistant glass
5. Continuous fixing of the glass through glazing rebate fixing or bonding
6. Attachment to building structure with compression-resistant packing of the fixings in accordance with the installation instructions
7. Suitable building structure (masonry) 
Schüco entrance doors: secure and unique
Schüco entrance doors: secure and unique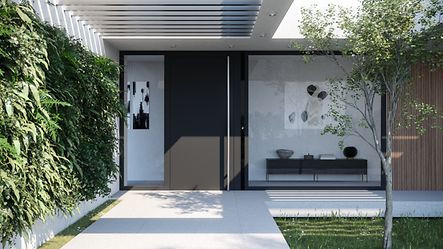 Schüco entrance doors made from aluminium and PVC-U are thermally insulated, robust and durable. How well your entrance door is protected against attempted break-ins depends on the door frame trim and leaf, the door hinges, the fittings and the locking points. All of the components have to be tested and certified as a unit "from a single source". Depending on the individual security requirements, tested and certified burglar resistance to resistance class RC 2 can be achieved with Schüco PVC-U entrance doors and to RC 3 with Schüco aluminium entrance doors.
It is important to note that only locked entrance doors achieve the certified and tested resistance classes. The door must be closed for this. For aluminium and PVC-U entrance doors, Schüco offers closing systems which automatically trigger multi-point locking on at least three points whenever the door is closed. This means you no longer need to lock the door with a key, for either burglar resistance or insurance purposes.
Security components
1. Suitable profile system
2. Burglar-resistant infill
3. Securing of the hinge side
4. Multi-point locking
5. Lock and security cylinder
6. Continuous glass fixing
7. Anchoring to the masonry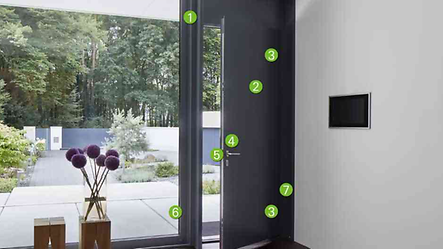 Schüco sliding doors: secure, light and airy
Schüco sliding doors: secure, light and airy
Aluminium and PVC-U sliding systems from Schüco feature tested and certified burglar resistance up to RC 2 with large areas of glass and narrow frames. In addition, thermal insulation, ease of access, a variety of opening types and a wide range of colour and surface finishes are a matter of course for this product range. Learn more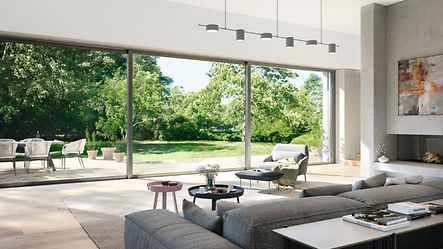 Schüco aluminium sliding doors offer a wide range of solutions with a variety of basic depths and thermal insulation values for clients who require floor-to-ceiling, generous sliding systems with the narrowest of profile face widths. Depending on the construction, manual or mechatronic fittings are available to quickly and safely move vent weights of up to 500 kg, for complete ease of operation. Mechatronic sliding doors can be opened, closed and locked at the touch of a button using a control panel on the vent or a wall-mounted switch. Monitoring of opening and closing with a confirmation function helps control the sliding units when leaving the house. The monitoring system can be integrated into the building automation systems and combined with burglar alarm systems.
Schüco PVC-U sliding doors offer excellent value for money and maximum thermal insulation while also meeting a good many requirements in terms of functionality, comfort and design. With basic depths of 70 and 82 mm, the sliding systems are perfectly compatible with the PVC-U window and door range.
Security components
1. Suitable profile system
2. Anti-lift-out device in the top vent frame
3. Monitoring of closing
4. Additional locking points
5. Lockable handle/security cylinder
6. Additional locking points to reinforce the interlock section
7. Burglar-resistant glass
8. Continuous fixing of the glass in the vent frame and fixed light
9. Anchoring to the masonry with compression-resistant packing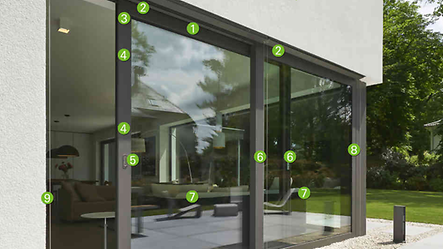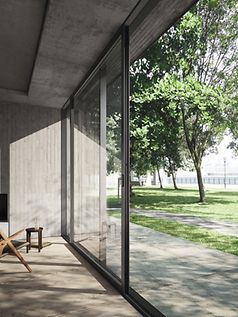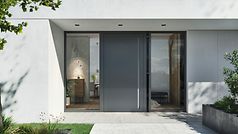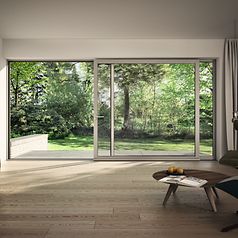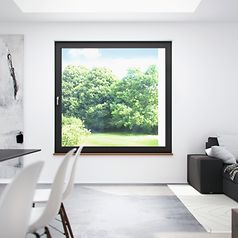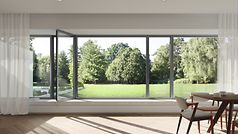 Building automation
In addition to burglar-resistant units, building automation also contributes to providing additional security in your own home. Schüco systems for building automation offer a variety of functions and options which make your home more secure, more comfortable and better able to retain its value. Access and door communication systems which use audio and video are therefore important components when it comes to protecting people and property, especially in buildings with more than one tenant. The monitoring of the opening and closing of windows, doors and sliding doors is also part of an intelligent security management system and enables energy-efficient living. The most important sensors are the magnetic switches, which can be connected to a burglar alarm system to trigger an alarm in the event of unauthorised unlocking, opening or attempted sabotage.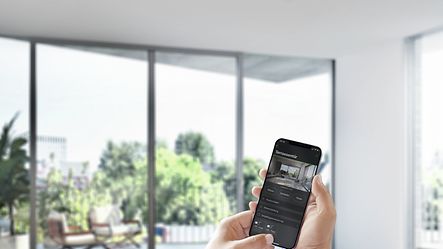 Subsidies
Secure an investment grant from KfW
Schüco offers a wide range of security solutions for your home renovation project. You can receive financial support from the German Credit Institute for Reconstruction (KfW). For individual burglar resistance measures in existing buildings, the KfW has been subsidising eligible investment costs of between 500 and 1,000 EUR at 20 percent and 1,000 to 15,000 EUR at 10 percent since 2017 (KfW scheme 455-E). A maximum grant of 1600 EUR is available per residence. This applies, for example, to new doors which achieve the minimum resistance class of RC 2.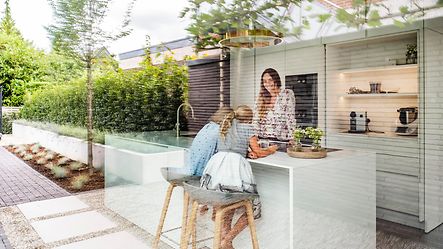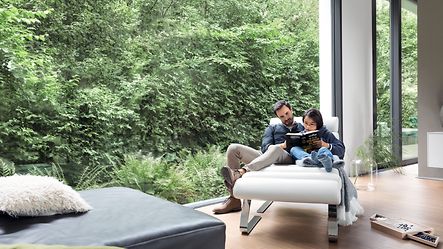 Take advantage of low-interest credit from KfW
When renovating your own home, burglar resistance often requires more work than one might think. This is because, in addition to security, issues such as ease of operation and ease of access are also important. Here is a quick overview of the key points.
The KfW supports private individuals with credit of up to 50,000 euros per residence (KfW scheme 159). The interest rate is fixed for max. 10 years. The term can last for up to 30 years in total. For a term of between 4 and 10 years, the effective interest rate and the interest rate on debt is just 0.75% per year. The first two years can be interest-only if required.
This gives you the opportunity to implement comprehensive security measures. At the same time, you can save on energy with modern windows and doors and improve the level of comfort in your home. Applications for a grant or credit must be submitted to KfW before the building work starts. On the KfW website, you can find everything you need to know about the available funding schemes and the requirements.
As safe as houses
For optimum protection against break-ins, burglar-resistant products and integrated smart home technologies can be complemented by occupancy simulations or alarm systems.
Occupancy simulation
By integrating other smart home components, roller shutters can be lowered and lights can be switched off, even remotely. This makes it seem like people are home and will deter burglars from trying to break in.
Alarm systems
If an unknown person does venture near your home, cameras and movement sensors frighten most burglars off. Building automation from Schüco can be connected to alarm systems, thereby increasing the level of security in your home and making sure you are well-equipped. Of that you can be sure!