High-rise residential building in Stockholm
Reaching for the sky – a possible solution for the housing shortage in the Swedish capital of Stockholm. The metropolis, located in the south-east of Sweden, is home to around 1.8 million people, meaning those looking for a new apartment or house often have to wait a very long time. Norra Tornen, a residential high-rise block, offers 182 urban apartments with dazzling views over the city.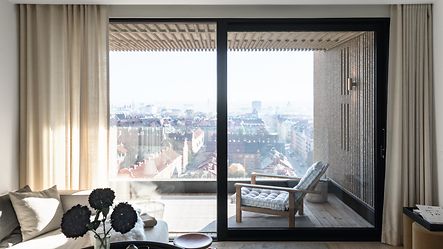 The tower is one of the highest residential buildings in Stockholm, with a total of 36 floors and a height of 125 metres. The two high-rise buildings were originally conceptualised as glazed office buildings which would form a monumental city gate in the north of the city – this is where the name "Norra Tornen", meaning "northern towers", stems from. But before construction began, the investor and architect changed their minds and decided to give the building a different use. Nevertheless, the contours of the building were kept the same. The façade is made up of an alternating pattern of boxes featuring protruding living rooms and outdoor areas further in. These boxes give the building a playful character and draw attention to the small details, the individual projections and balconies. Large-scale panorama windows in the prominent bay windows create a visual connection to the city. Frameless panes make up almost the entire outer wall of individual rooms, which is especially important in this Northern climate where there is little daylight in winter.
Project: Norra Tornen
Location: Stockholm, Sweden
Architects: Oscar Properties
Fabricator: KPAB Industri AB
Completion date: 2018
Products: Windows, doors, sliding doors
Schüco systems: AWS 75.SI, AWS 70.HI, ADS 75.SI / HD.HI, ASS 70.HI
Photos: Laurian Ghinitoiu
Would you like to know more? Read about this architectural project and more in the current issue of profile magazine here.