Renovation – home in Rietberg
When a home has become tired and outdated, the question is often whether to tear it down and rebuild or to renovate it. Arguments for renovation include maintaining the existing structure, as well as, for example, the established existing trees or the cherished neighbourhood. Renovators can do whatever is possible to tackle the weaknesses present in existing buildings, such as poor energy ratings or inflexible floor plans. Renovating and extending existing homes is therefore an interesting option, both in urban and rural areas. 
A good example of what a subtle but confident extension with a contemporary twist can look like can be seen in the residential property in Rietberg.
The town of Rietberg on the Ems river is characterised by a number of preserved gabled houses with timber framing and large areas of parkland. The plot owned by architect Anke Becker's family also includes a well-preserved timbered building from 1824 which was extended at the turn of the last century to include living quarters.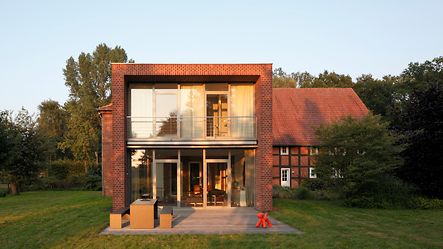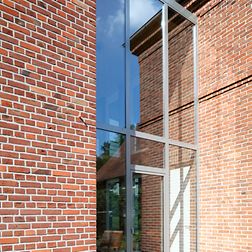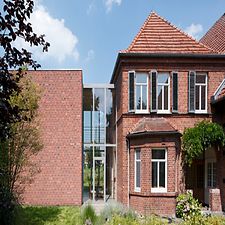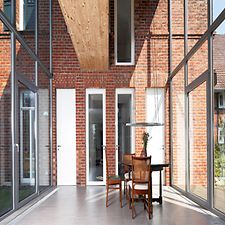 For the newbuild, the architect set out to find traces of the materials used in the original building components, hidden beneath the layers of time. The concept for the new ensemble strikes a balance between retaining the substance of the old building and bringing it up to date. The cubic extension is deliberately modern in its design but smaller than the original building in terms of proportion. A slimline two-storey glazed atrium harmoniously connects the old to the new. There are nods to the old building everywhere, both in the clinker material that is typical of the region and in the brickwork itself. Small details such as the retention of the old external façade in the new interior and the attachment of the glazed connecting section using carefully selected construction profiles all demonstrate the respectful treatment of the building's history. While the ground floor extends the living area out from the old building, a bedroom with dressing room and a bathroom on the top floor increase the number of rooms in the house. 
Inspired by the endless views of the surrounding countryside, floor-to-ceiling glazing was planned for the south façade. The affinity with the strict grid of the timber frame can also be clearly seen in the division of the glazed areas. The dissolution of spatial boundaries between indoors and outdoors can be clearly felt at all times of the day and year.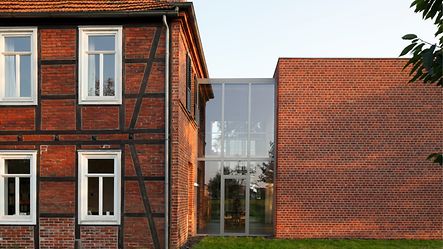 Project: Private home near Rietberg
Location: Rietberg, Germany
Architect: Anke Becker
Year built: 1824
Schüco systems: Schüco windows