Forward-thinking building with long-lasting benefits
Having children, needing a wheelchair, being in an accident or simply aging – life changes may be planned or they may come as a surprise. Easy-access building creates greater independence for whatever may come. The aim is to create easy access now, rather than retrofitting it later. And this applies not only to newbuilds, but also to renovations.
Anyone involved in building is investing in the future
A disability may make everyday tasks a challenge. But able-bodied people can also benefit from easy access and open space. Anyone constructing their dream home from scratch or renovating a building should therefore take three things into consideration: easy-access thresholds, sufficient space to move around and smart home automation. These considerations ensure that people in every phase of life, including those with motor or cognitive disabilities, can access buildings easily and independently.
It is also important to make the floor plan as flexible as possible. For instance, could you partition rooms using lightweight walls to accommodate for changing needs? This would enable a large living room on the ground floor to be separated to create a playroom or a new bedroom.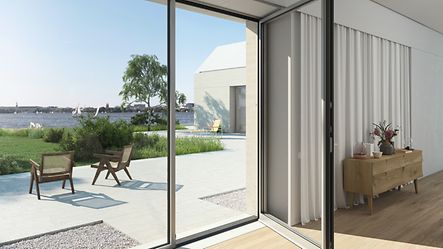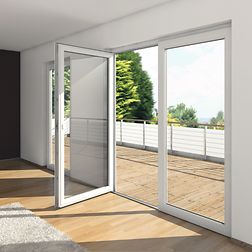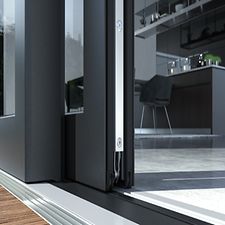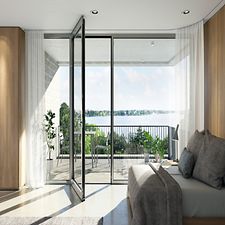 Smart, easy-access buildings which enable freedom of movement
Easy-access thresholds are particularly beneficial when moving from inside to outside areas. Window, door and sliding door systems, which allow profile geometries to be concealed in the floor, create barrier-free access to the outside. This benefits people who use wheelchairs or walking frames, as well as parents and carers with small children or pushchairs. Schüco provides solutions for this ranging from easy adjustment right through to level thresholds and threshold solutions which meet the requirements of DIN 18040 for the construction of accessible buildings. Ideally, corridors should be at least 150 cm wide to allow sufficient space for wheelchair users to move around independently. Parents with small children also benefit from increased space to move around and park pushchairs, scooters and the like. If, in addition, the door can be opened with a fingerprint, the roller shutters can be controlled at the touch of a button, and the lighting reacts to motion, then a huge step has been made towards creating age-appropriate living conditions, while also providing a high level of comfort right now. If the construction or renovation budget does not yet stretch to smart building services, the infrastructure, for example electrical lines and interfaces, should at least be prepared. This makes future work less complicated.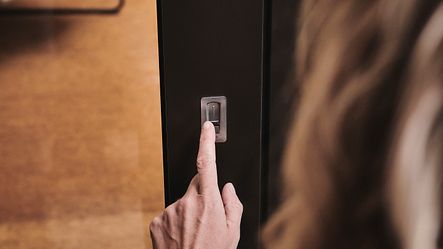 Did you know
American architect Ronald L. Mace (1941-1998) carried out a great deal of work on the topic of barrier-free architecture and coined the term 'Universal Design' – a social, people-oriented approach to design which benefits everyone. Find out more now