Our new Schüco Innovation Now online platform hones in on three topics which will shape construction for years to come:
Health – Healthy Building. Smart – Smart Building. Security – Secure Building.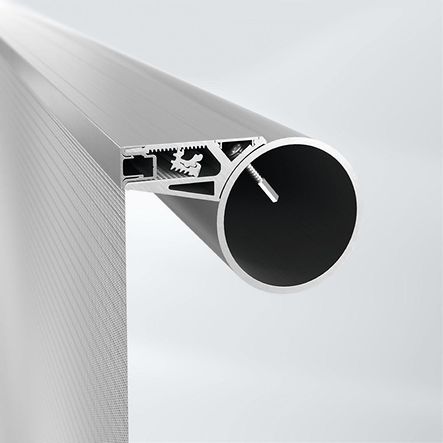 Innovative textile façade for flowing 3D forms
New three-dimensional design freedom for modern, sustainable building envelopes. The Schüco FACID Freestyle textile façade allows architecturally sophisticated, unique façade solutions to be created for commercial buildings and offices.
The lengthways reversibility of the profiles and the installation on round-tube substructures allows organic, flowing forms to be created with a unique look – perfect for high-strength covering of large-format façade areas too.
The innovative system offers architects and specifiers flexible application and design options: as a suspended, rear-ventilated façade, as screening and sun shading or as an additional decorative level.
The fabric can be printed digitally as a functional, individual design feature and is perfect for creative lighting effects.
Fabrication benefits
Excellent design quality: system technology is easy to calculate with reliable implementation
Innovative components enable optimum works planning: simple and efficient thanks to prefabrication and quick installation without expensive special tools or machinery
Profiles are positioned precisely before clamping and special flexholder technology for fold-free areas – for straightforward, easy installation and façade design
The fabric can be fully or partially removed while the building is in use
Still don't have a user account?
Many benefits as a registered user:
Work material (e.g. tender specifications, CAD data, catalogues)
Software & Tools
Note content
Direct contact to Schüco