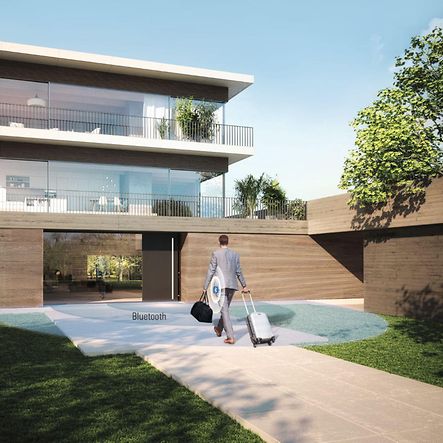 New technology for keyless access controlled by your smartphone
Keep track of everything at all times: Access authorisations can be set and logged individually, flexibly and for specific people using the Schüco app.
Full transparency: Schüco BlueCon i allows you to find out who has entered your home at what time of the day.
Puristic aesthetics: The concealed installation in the door rebate combines a harmonious appearance with a sophisticated design.
Maximum convenience: The user decides whether the door is to be opened automatically by means of an app or manually.
As secure as online banking: The double AES 256 bit encryption technology meets the highest security requirements.
Other benefits include using Schüco BlueCon i in Schüco ADS and ADS SimplySmart door systems and retrofitting in Schüco ADS door systems.
Fabrication benefits
For newbuilds and renovations: Can be used in Schüco ADS and ADS SimplySmart door systems; existing Schüco ADS door systems can be retrofitted easily and quickly
Simple and ingenious: Thanks to Schüco cable kit, can be connected to electronic locks by means of plug & play
One module, complete functionality: No additional cabling and no additional power pack required
Don't have an user account yet?
Many benefits as a registered user:
Work material (e.g. tender specifications, CAD data, catalogues)
Software & Tools
Note content
Direct contact to Schüco