Solutions for strong performance
Metal fabrication with potential
Your workshop, our expertise, individual power: we ensure that each fabrication process is reliable and efficient. Workshop planning creates unique concepts, optimises processes and advises on which machinery to choose. Digital solutions, the latest profile databases and networked machinery result in smooth, straightforward fabrication.
Support
Support
With our international machinery service, you have an experienced, knowledgeable contact person by your side to help you every step of the way.
Take advantage of the wide range of services that we offer: 
Setting up and commissioning Schüco machines
Service and maintenance of machines as specified in the guarantee and customer order
Inspections of your Schüco CNC machines
Availability of spare parts for machines
Technical hotline for machinery at weekends
Purchase and sale of used machinery
Machine downtime?
Our qualified service staff will personally receive your damage report. Give us a call. Our hotline is available 5 days a week (Saturday emergency phone).
Service hotline: +49 521 783-479
Remote maintenance
Remote maintenance
The Fastviewer remote maintenance programme has previously allowed our experts in the Bielefeld Service Centre to connect to the Schüco machines of customers. Functions can be checked directly in the machine control system and parameters can be edited.
This high-performance tool is now being supplemented with the new Schüco Fabrication Realtime Support App (FRS), which enables our fabricators to talk to our service engineers via interactive video conferences. Integrated mobile network optimisation ensures that the app can connect even in minimal bandwidths.
Features of the FRS app:
Live video transmission for connecting engineers / customers with experts
Laser pointer in live video
Still-image capture: Work together using the whiteboard
Chat functions for sharing information quickly
File Manager with file sharing options
Simple and intuitive operation
Benefits of the FRS app:
Increase in machine availability
Fastest remote diagnosis by our specialists - shortest downtime
Reduction of maintenance costs
Reliable identification of replacement parts
Support from maintenance and service staff
The app can be used globally in English, German, French and Russian, and is available to download immediately from Google Play and the App Store. It is compatible with all hardware and is therefore suitable for smartphones, iPhones, tablets and PCs.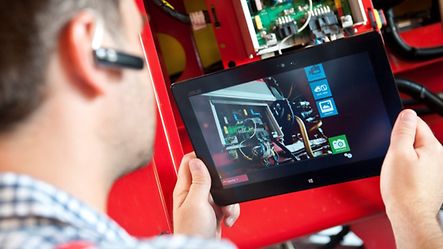 Used machinery
Used machinery
Your machine does not always have to be a new acquisition in order to meet changed product and customer requirements or take account of new fabrication technologies. Our used machinery may be second-hand, but it is also perfectly maintained, geometrically exact and dimensionally accurate.

Our services:
Tailored retrofit concepts
Comprehensive revision of drive and security technology
Transport, assembly, installation and training of your fabrication employees
Retrofitting of processing units
Software updates
The benefits to you:
Less investment compared to new machines
Increased competitiveness
More efficient operation 
Increase in productivity
Production reliability with a 12 month warranty
Used machinery: +49 521 783-592
Workshop planning
Workshop planning
Productivity can be made individual: Schüco workshop planning considers all aspects of metal fabrication holistically and in detail with the aim of increasing quality and performance while optimising the use of resources.
We analyse the use of space, processes, ergonomics, the flow of material and digital solutions in the company and design bespoke fabrication concepts with high-quality hall layouts which are tailored precisely to the fabricator's needs and workshop layout.
Our customers receive an individual, personal and interactive consultancy service which optimises processes, increases efficiency and reduces costs for the long term across all areas of fabrication.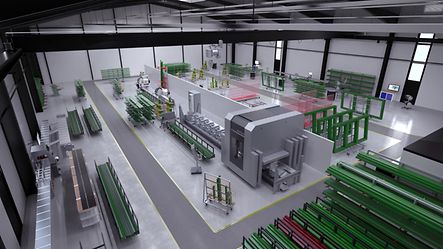 Subsidies
Subsidies
The fast-paced world, demographic change and shortage of skilled workers mean that metal fabricators need to invest in future-proof machinery and concepts. There are various opportunities for funding to help you with the necessity of investing in the future. Banks, tax advisers or your Schüco Area Sales Manager will be happy to help you. Want first-hand experience? Our Schüco partner Saal Metallbau will tell you all about the process.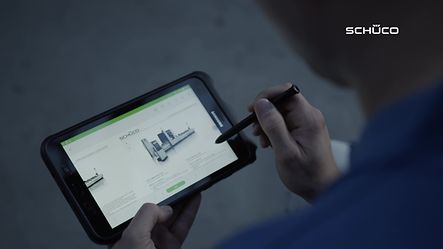 Don't have an user account yet?
Many benefits as a registered user:
Work material (e.g. tender specifications, CAD data, catalogues)
Software & Tools
Note content
Direct contact to Schüco