5-axis AF 510 CNC machine
Stunning performance
The highly dynamic 5-axis AF 510 CNC machine provides a strong, flexible base for almost any metal fabrication task. With excellent drive and motor technology, the machine delivers maximum CNC power and offers significant advantages for the machining of larger cross sections, together with simultaneous cutting.
Thanks to the absolute position-measuring systems, axes no longer have to be referenced, and individually operated clamps allow simultaneous processing in groups, which reduces set-up and fabrication times. The alternating mode features automatic clamp positioning, while the simple profile loading process makes the machine easy to operate. For highly efficient 6-sided machining in the blink of an eye.
AF 510 at a glance
5 controlled CNC axes
6-sided machining
Ranges of travel of up to 7800 mm or 7300 mm when the end of the profile is machined
The bumper technology allows the machine to be operated open
8 individually operated, adjustable clamps
20 spaces in the moving tool magazine
"This machine paves the way towards Industry 4.0 and automation. A perfect combination of efficiency, price and performance."
Andrej Ezau, Project Leader Fabrication Products
The benefits of AF 510
The high-performance 22 kW spindle with a new spindle coolant and vibration monitoring paves the way to Industry 4.0
With absolute position-measuring systems in all axes, referencing is a thing of the past
Decentralised operated clamps allow simultaneous movement with an adjustable feed rate of up to 25 m/min
The typical structure of the 5-axis machine makes it possible to cut notches from below and to machine close to the clamps
Optimised fabrication thanks to pressure monitoring in the clamps and speed adjustment independent of the spindle utilisation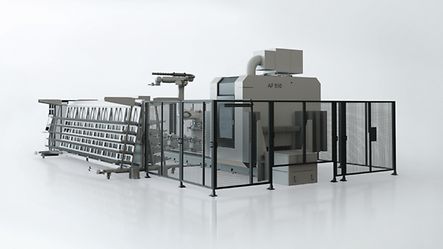 Did you know?
You can experience the AF 510 and many other machines live in the new Welcome Forum in Bielefeld. It's best to make an appointment right away!
Don't have an user account yet?
Many benefits as a registered user:
Work material (e.g. tender specifications, CAD data, catalogues)
Software & Tools
Note content
Direct contact to Schüco