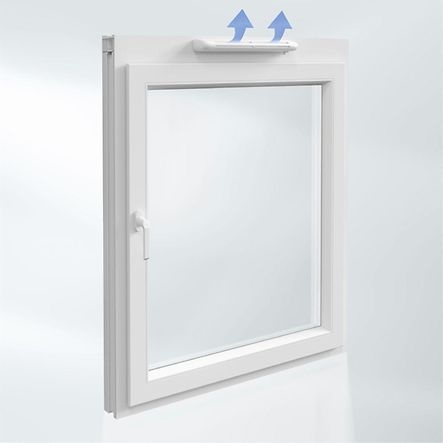 Ventilation system Schüco VentoPlus - demand-driven ventilation for more comfort
The Schüco VentoPlus ventilation system is a demand-driven air supply unit which can be installed on the outer frame, on an extension or on a vent profile.
Thanks to a mechanical humidity sensor, Schüco VentoPlus ensures automatic adjustment of the air volume flow and therefore provides ventilation to suit requirements.
Schüco VentoPlus can be used as an external air inlet in conjunction with shaft ventilation or air extraction systems.
Schüco VentoPlus is an automatic and tamper-proof ventilation system for removing moisture within the context of displacement ventilation, taking account of the laws of building physics.
Planning benefit
Permissible in accordance wiht EnEV and DIN 1946-6
Integrated mechanical humidity sensor for controlling the air quantity
Demand-driven ventilation
Sound reduction Dn,e,w up to 41 dB or 44 dB (fan open / closed)
Can be used in newbuilds and renovation projects
Register now..
Work material (e.g. tender specifications, BIM objects, CAD data, catalogues)
Note content
Direct contact to Schüco