Functionality in fire protection only works to the detriment of design? Not at all! The functional components of our FireStop system platform can be fully concealed.
Can you spare 3 minutes? Watch now and discover the Schüco FireStop fire and smoke protection platform ADS 90 FR 30.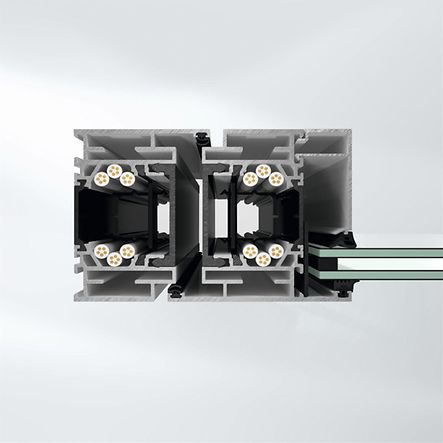 Excellent design combined with proven fire protection for 30 minutes of fire resistance
The Schüco FireStop ADS 90 FR 30 fire door is part of the Schüco FireStop system platform and offers an attractive fire door and wall range, tested in accordance with EN 1634/EN 1364 and DIN 4102 for 30 minutes of fire resistance.
The thermally broken fire-resistant construction with a basic depth of 90 mm is distinguished by its unique elegance: extremely narrow profile face widths allow for the greatest possible transparency, while integrated closers and concealed door hinges impress with their minimalist design. The versatile design options also allow the use of glass or panel infills.
The other strengths of the door system include high flexibility and efficiency in terms of design, fabrication and installation: fittings and locks can be easily inserted in the aluminium system, for example without the need for prior machining, and covered with a simple functional make-up piece. The open-rebate profile geometry also enables subsequent changes in application while the building is in use, while still maintaining its approval for fire-protection. The inter-compatible system can therefore be upgraded quickly and economically with additional electrical components, and be functionally enhanced in a variety of ways.
The pioneering aluminium door system offers specifiers, architects and fabricators new flexibility when it comes to reliably adhering to building regulations – with a range of designs to meet the highest requirements.
Planning benefit
Concealed fittings: attractive combination of fire protection and stylish design can be achieved
New dimensions in terms of size and transparency: door types with large clear opening dimensions
Freely accessible door types without the use of lock technology are possible (observe country-specific approvals)
Tested fixed glazing in both portrait and landscape format also possible in combination with doors
Simple and flexible changes in use while the building is still in operation, e.g. switching from single to multi-point locking or subsequent installation of electric strikes
Doors can be designed with frame extensions
Register now..
Work material (e.g. tender specifications, BIM objects, CAD data, catalogues)
Note content
Direct contact to Schüco