Facades
Textile facade FACID
FACID Freestyle
Bookmark product
Schüco Façade System FACID Freestyle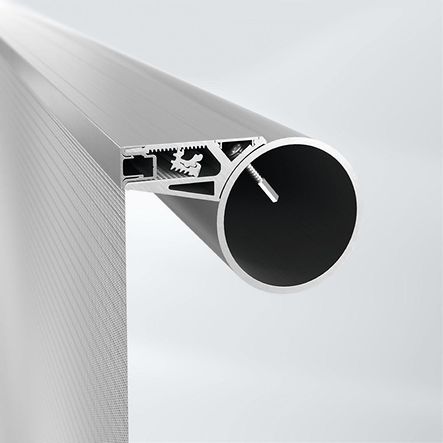 Innovative textile façade for flowing 3D forms
New three-dimensional design freedom for modern, sustainable building envelopes. The Schüco FACID Freestyle textile façade allows architecturally sophisticated, unique façade solutions to be created for commercial buildings and offices.
The lengthways reversibility of the profiles and the installation on round-tube substructures allows organic, flowing forms to be created with a unique look – perfect for high-strength covering of large-format façade areas too.
The innovative system offers architects and specifiers flexible application and design options: as a suspended, rear-ventilated façade, as screening and sun shading or as an additional decorative level.
The fabric can be printed digitally as a functional, individual design feature and is perfect for creative lighting effects.
Planning benefit
Exceptional design freedom: free surfaces and windows can be spanned or left uncovered permanently
The transparent façade appearance forms the basis for light effects by means of back lighting and projections
The textile façade can be optimised even when conditions change; old and new building structures can be easily connected by a shared new exterior design
Based on a patented clamping system used worldwide: maximum functionality and clamping without folds in all corners and attachments combined with durability and low costs across the entire lifecycle of the building
Use of high-tech textiles ensures multifunctional applications such as screening, sun shading, glare protection and protection against the weather: fibreglass fabric with fire classification A2 can also be used
Register now..
Work material (e.g. tender specifications, BIM objects, CAD data, catalogues)
Note content
Direct contact to Schüco