Reuse of building materials made easy
RotorDC is a cooperative design practice that investigates the organisation of the material environment. An interview with Victoria van Kan, collaborating with RotorDC since 2019.
PROFILE: Why  id Rotor – an architectural firm – set up a company
for deconstruction?
 
Victoria van Kan: In 2005 Rotor was formed through a common interest in researching waste materials, material flows, and the obsolescence of materials in the building industry.
Since then Rotor has been working on these subjects at differing levels (cultural, technical, legal …) with design interventions and design assistance, exhibitions, publications and conferences, education and research.
In 2016, RotorDC was born out of a desire to put the promotion of reuse into practice, more specifically inside the city. Reusing materials was a very common practice in the 19th Century, but due to the mechanisation of demolition practices, cheaper new materials, the cost of labour etc., it disappeared, but not completely. We noticed that the materials that are still on the reclamation market are, for the most part, materials fabricated before the 1950s. RotorDC is focussing on the deconstruction of modern buildings and in this way deals with the actual demolition scene.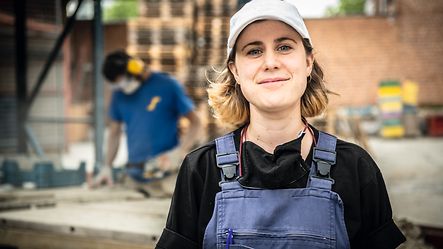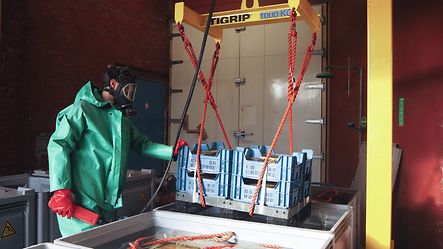 PROFILE: How does RotorDC work? How do you get the material? How do you organise logistics, reprocessing and distribution?
RotorDC gets involved in the time between when an owner wants to »get rid of« building materials and when a new building project starts.
The materials come from demolition sites or private owners bringing them in, most of them originate in Brussels. Before conventional demolition work begins, the elements are carefully dismantled, then prepared for reuse and sold. RotorDC organises the storage, transport, inventory, sorting, removal of possible residues, packaging, documenting and publishing. As an example, ceramic tiles are dipped in acid baths to dissolve the mortar residues and to prepare the tiles before they are eventually sold per square metre in our showroom.

PROFILE: Who are your customers?
We have both private and professional clients. Contractors, architects – often in Beconjunction with their clients – even curious neighbours …
PROFILE: How do you convince big companies like builders and real estate companies to invest time and money in recycled components or reuse?
We are starting to gain momentum as the Belgian government is forcing the direction taken with reusing public buildings, which is very positive. We do encounter problems sometimes with big businesses on issues such as mismatching sales conditions.
That's when compromises have to be made. Where elements are being reused, technical information is often missing. At that point, it's a question of relying on the experience and know-how of specialised resellers that can identify and evaluate the quality of the materials.
PROFILE: Which materials are most in demand and sell best?
The absolute bestsellers during the winter are our lighting fixtures. Most of our light fixtures are revamped in our workshop to meet today's standards. We identified that there is a high demand for reclaimed floors and walls in natural stone (marble, terrazzo and limestone), but also for low-cost materials such as carpet tiles. Surprisingly, since the era of telework, glass partitions, previously dismantled for creating open office spaces, are back in.
Reuse is always easier in bigger quantities, both in terms of design and inventory work. Large amounts are easy to find in large-scale office buildings, for example, where every floor has 20 identical doors. When we acquire 30 desks, we might sort them into quality A and B – and try to be as accurate as possible in the description of the product.
PROFILE: Where will you be in 10 years?
I could take your question very literally and say that in 10 years we are hoping to (still) be in the city centre, which is a very important part of our
operation. Today, we occupy a temporary warehouse space and a yard close to the centre of Brussels. We like the idea that materials extracted from the city stay in the city and that reclaiming can take place inside the city instead of being decentralised in the countryside with many resellers.
So far RotorDC has been experimenting on how to position itself in the political, economical and build environment, and is now slowly starting to put down roots. It is not very clear yet which exact direction RotorDC will take. Perhaps there could be multiple versions of RotorDC. Maybe RotorDC could specialise in certain materials and leave other materials to more specialised resellers? The reclamation market is growing quickly and we are very happy to see that.
PROFILE: How will building change in the future?
I believe that in a few years from now, a diagnosis of reuse will be required automatically before the building is demolished. It might even become necessary to justify why a material was not reused, if it is clear that there is a demand on the reuse market.
Architects and builders would be more aware of the material resources and might perhaps even be encouraged to build in a »reversible« way, making deconstruction possible again and again.
PROFILE: At Rotor you are also working on projects involving circular building. What is your strategy when you  start a new project?
We strongly believe in collectivity, so there is never one point of view. But what always surfaces is a curiosity for the complexity of the material environment with all its facets. To experiment in the belief that there is always something to be learnt. To deal with the existing build environment in a very practical, even simple way.
Register now..
Work material (e.g. tender specifications, BIM objects, CAD data, catalogues)
Note content
Direct contact to Schüco