Interview with Anja Kristina Köhler
Project developers are not normally a group that people get excited about. EDGE is different. Dutch founder Coen van Oostrom has turned his company into a brand and pioneer in uniting success, quality and ecology. As a sustainability expert, Anja Kristina Köhler works towards ensuring that sustainability at EDGE is more than just a green façade for particularly lucrative projects.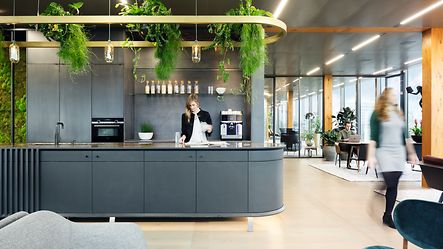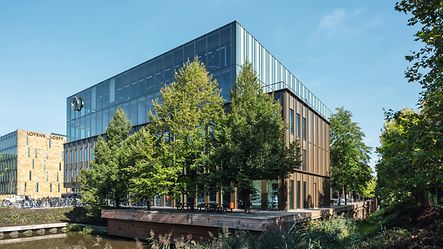 PROFILE: Ms Köhler, you work in an EDGE building. What's it like? I work at EDGE Olympic in Amsterdam. It's a super smart building, but it doesn't necessarily look like one – it has a warm feel, with lots of organic shapes, plants and wood. It's definitely very different from the smart buildings in sci-fi films like »The Matrix«. Only when you look up at the ceiling do you see the sensors everywhere. These measure the air quality, sound level, temperature, daylight and capacity, for example. All this data converges in an intelligent IT platform, which allows the building to run efficiently.
PROFILE: What role do you play in the business? I am responsible for innovations in the area of sustainability. Innovations only arise out of collaboration – both within and outside of the company. My responsibilities are therefore very varied and include research on new technologies and materials, product development, benchmarking and exchanging knowledge with EDGE colleagues and other companies.
PROFILE: Over the last few months, you and your team have devised a s t rategy to make EDGE completely carbon-free by 2050. That's a huge step for this industry... Yes, but it's only just getting started. Implementing our goal of net zero carbon for grey emissions and operating emissions in our upcoming projects will certainly be a challenge. But we are keen to rise to the task.
PROFILE: According to a study by the DGNB (German Sustainable Building Council), around a third of a building's emissions is created before the building is actually used. Is that the main problem? It's actually relatively easy to operate a building without generating emissions. We therefore aim to completely eradicate operating emissions in our new projects by 2030. However, it's much harder to deal with grey emissions, which are those generated during the manufacture of materials such as steel, glass, or concrete, as well as during construction and dismantling. We aim to reduce these grey emissions by at least 50 % for all our new projects by 2030, to a maximum of 500 kg CO2 /m2.
PROFILE: Is that enough? It's a big step, as we are including the life cycle phases A1 to A5 in our calculations – these range from the preparation of the raw materials through to completion. We are also factoring in the technical fittings of the building, such as wiring and ventilation systems. So all in all, this is quite an ambitious interim goal. By 2050, we aim to be completely carbon-free – even though our boss is constantly asking »Can't we do it quicker, Anja?«
PROFILE: What does this mean for you exactly? We are speaking with steel suppliers, supermarkets, couriers and tour operators. If there are no carbon-free lights until 2050, our colleagues won't be able to fly any more. We will naturally turn to other key players for guidance with these issues.
PROFILE: Are your colleagues on board? They are all generally enthusiastic about the strategy. Many of them already cycle to work or drive electric cars, as they like to travel sustainably in their personal lives too. We can see everyone enjoying putting more effort into living sustainably. But we will start to record all our emissions, as much as possible in real time, so that every employee will be able to see how their behaviour influences the sustainability of our projects. After all, this is something that concerns everyone.
PROFILE: All the same, the construction industry  has traditionally been conservative. How will you try to dismantle ways of thinking about new materials and processes? I remember having some chal lenging discussions with our colleagues working on the development and construction of the projects. But finding innovative ways to decrease our carbon emissions has definitely become the norm by now.
PROFILE: What do your customers think? The markets are very different. In London for example, buyers and tenants place great importance on sustainability criteria, and financing banks have also internalised this. Our first net zero project in the UK will actually be the EDGE London Bridge building, which is scheduled for completion in 2025.
PROFILE: Will EDGE continue to make newbuilds? I'm certain that buildings in the future will no longer be demolished and rebuilt for no reason. The law will make this impossible, or at least very expensive. In this respect, we are taking the time to conside how we can recycle materials or complete parts of a building. And we've set a quota for the future: 30 % of the materials we use must be recycled.
PROFILE: How far along are you with this? Although EDGE is predominantly known in Germany for its extraordinary newbuilds, around half of our current projects worldwide are renovation projects. For EDGE Olympic, where I work, we recycled as much of the old building as possible. In addition, the existing building and the two new upper floors also have a material passport. This means we know exactly what was installed and how we can recycle it again one day. For this reason, we didn't use any glue on the timber construction and instead just fixed it with screws.
PROFILE: Will climate - friendly offices be less comfortable? Small slit-like windows will stay firmly in the past, I'm sure of that! Plenty of natural light is important for a healthy working environment – after all, the health of the employees is the greatest asset of any company. At EDGE, every employee can create their own feel-good atmosphere in the workplace.
PROFILE: It's hard to imagine that in a large office... It doesn't always work – for example, I might like the room to be 30° while a colleague beside me prefers 18°. Nevertheless, temperature and the amount of light can largely be controlled individually. What's even more important is creating a varied work environment which serves the different activities and preferences of different people.
PROFILE: What has changed due to the pandemic? During the pandemic, we installed higher partition walls between desks, and these have remained at the request of the employees. There's simply a need for these shields so we don't get distracted by sights or noises. It annoys me too when a colleague is talking on the phone for hours. On the other hand, since the pandemic, many colleagues now enjoy having a drink together after work, on the days that they are in the office. We installed a bar counter in the kitchen to accommodate this.
PROFILE: Do you think we will still be travelling to the office in 2050? Large-scale employers are already thinking hard about what is important for every individual employee. Some really enjoy working from home, for example because they have young children to look after and can do large amounts of their work in a concentrated way. Others prefer the more communicative environment of the office. We've learnt that it's harder to inspire creativity and innovation from behind a screen. In this way, the office will be of ever greater importance when it comes to collaborative work.
Register now..
Work material (e.g. tender specifications, BIM objects, CAD data, catalogues)
Note content
Direct contact to Schüco