Freedom in the design process
Seamless transitions between large window fields and large sliding door panels as well as stepless transitions between indoor and outdoor areas are highly desirable in our projects. With Schüco systems, we achieve the best possible solutions to these requirements.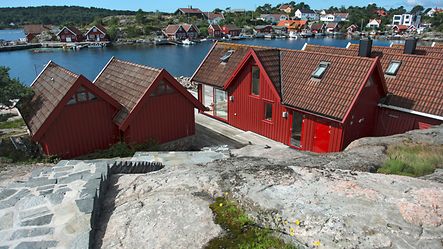 PROFILE: Which topics on the Schüco stand interest you in particular?

Aud Randi Astad: My company has designed a large number of family homes and residential projects in recent years. We were therefore particularly interested in the topic »HOME«. In addition to freedom in the design process, topics such as comfort, acoustics, smart building, security and digitalisation are very important. In these areas, Schüco is streets ahead in terms of innovation and, in my experience, offers excellent solutions which combine both design­related and technical requirements. It was therefore very interesting to attend the BAU 2019 exhibition in Munich.
PROFILE: What does planning with Schüco systems mean to you?

Aud Randi Astad: When planning with Schüco systems, we can be sure that the projects form a seamless entity, that the systems offer a high degree of design freedom and that good solutions to technical challenges are on offer. The Schüco partners in Norway have also been a great help during the design process and have been able to assist us when we came up against challenges to which we were unable to find immediate solutions. In my last project I was working with family homes or, rather, prestigious family homes, where design requirements were particularly important. My latest residential project is situated on a steep plot with a fantastic view over fjords and mountains. It was important here to forge a link between the inside and outside spaces and let the beautiful surroundings become part of the home. Seamless transitions between large windows and large sliding door panels as well as step­free transitions between inside and outside (terraces) were often desired on these projects and we have achieved this using Schüco systems. We were also fortunate to be able to use the newest design system from Schüco with the narrowest face widths and a high­quality design with mullion profiles measuring just 35 mm wide. I believe we were one of the first to implement this system in Norway. In our work with family homes, it is also incredibly important that the buildings offer a healthy indoor climate and have good solutions for insulation and acoustics. Smart home solutions are also in demand. In our most recent project, we used intelligent door systems from Schüco and our customers were delighted with them.

PROFILE: New issues are constantly defining our daily work. What is your opinion in this regard?

Aud Randi Astad: We value the opportunities offered by the Schüco digitalisation assistance very highly. With regard to the workflow, however, in future we would like to see simplified drawings which show the solutions in a better way with different scales.

PROFILE: How do you think the working environment will look in future?

Aud Randi Astad: We believe that there will be even greater demands for flexibility in future. There will probably be more people wanting to work out of the office, and smart technical solutions in the home will increase. In the construction process, requirements for digitalised solutions will become more important. Smart BIM models will have a high level of detail, and demands for close dialogue between different participants in the construction process will be desirable. Transparency between all involved will be useful in the planning and construction process.

PROFILE: The overlap between private life and work is becoming ever greater – how do you, as an architect, react to these requirements?

Aud Randi Astad: It is important to build rooms that are flexible in terms of use. It is also important to ensure that the rooms we build are pleasant places to spend time in, are sufficiently light and open, have good health qualities and are constructed from environmentally friendly materials. And, of course, they must have an appealing design! In our society, there is also a particular focus on the reusability of materials. Perhaps the Schüco façade solutions can be combined with recycled materials?

PROFILE: What is important to you when implementing new architectural ideas and concepts? 

Aud Randi Astad: A high degree of freedom in the design process is of great importance. In homes, versatile use of opening fields is desired. Residents also want a simple procedure when it comes to locking and closing systems so they don't have to go all around the house to close windows and doors in the evening. As a result of the good insulating capacity of the new façades and in combination with smart sun shading products, in recent years it has become possible to build homes with larger window areas while adhering to the increased energy requirements. We see that architecture is changing in step with the new innovative solutions available on the market, which is great for us as architects.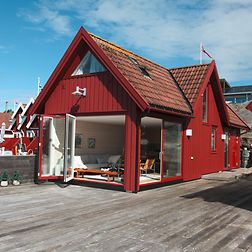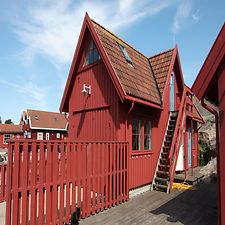 Register now..
Work material (e.g. tender specifications, BIM objects, CAD data, catalogues)
Note content
Direct contact to Schüco