Valuable materials
Aluminium, PVC-U, Steel
As a developer and supplier of system solutions for windows, doors and façades, Schüco champions the diverse properties of aluminium, PVC-U and steel. Find out more about the sustainability levels of our materials.
Aluminium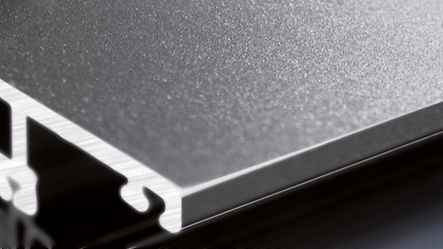 Due to its endless malleability and diverse surface finishes, aluminium gives architects maximum design freedom when planning pioneering buildings suitable for the future – and it is ecologically valuable too. Modern aluminium façade units have low U values. They therefore make a considerable contribution to the positive eco-balance of a building. Optimum material thicknesses when constructing the systems ensure low raw material consumption. Mechanical robustness and corrosion resistance guarantee a long life and therefore a high degree of sustainability. Aluminium is completely harmless to health in windows and façades. Once extracted it can be recycled indefinitely, retaining all its qualities during the recycling process. Even the swarf can be recycled.
PVC-U
For the most exacting requirements
Materials that meet the very highest demands are essential for tomorrow's world. PVC is one such material and – thanks to its positive characteristics – is increasingly being used to produce window and door units. Profiles made from PVC-U therefore have good insulation properties, and so contribute to a positive energy balance for buildings. They are also very durable. This is due in no small measure to the exceptional weathering resistance of PVC. With an excellent range of options, PVC window and door units provide great design freedom, thereby ensuring that pioneering buildings suitable for the future are planned. One of the most important properties of PVC window profiles is their recyclability. They can easily be dismantled into their constituent parts and recycled. If you plan and build with window and door units made from PVC-U, you are contributing to greater sustainability.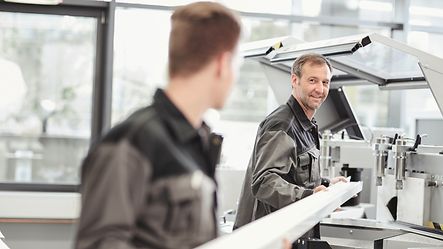 Steel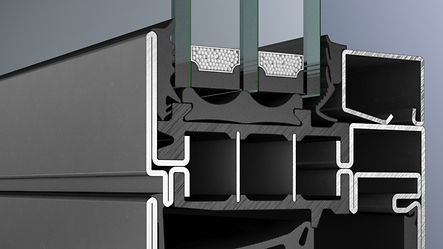 100% recyclable
Steel is not expended, it is continually used. Due to it being completely recyclable, steel is a regenerative building material with a closed material cycle. It gives architects and planners maximum flexibility of use due to large spans and is therefore one of the materials with a very good price-performance ratio in the construction industry. Very efficient use of space due to small cross sections also increases cost effectiveness. A very long life with low lifecycle costs emphasises the uniqueness of this material. Steel constructions can be taken apart without issue if detachable structural connections are used, offering the alternative of easy conversion for sustainably planned buildings. It's an all-round material that adapts to all possible requirements in terms of look and feel, and harmonises with glass and concrete.