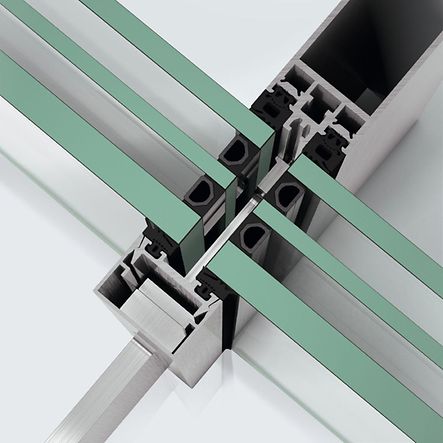 Panorama Design façade with integrated solution for all-glass corners without profiles
Architecture flooded with light and with maximum transparency, without compromise: the Schüco FWS 35 PD (Panorama Design) façade system offers a system-integrated solution, which allows for all-glass corners without vertical mullion profiles. The result is representative Panorama Design façades with a first-class visual appearance and an ideal view to the outside, which meet the highest requirements in high-end residential and commercial construction.
The system platform for the mullion/transom façade provides an enhanced range of accessories with a high degree of fabrication reliability, e.g. visually discreet attachment components for Schüco sun shading systems and tested burglar resistance solutions.
Combining different Schüco Panorama Design systems enables the complete seamless integration concept for the whole building envelope. Seamless stands for the concealed connection of Panorama Design constructions. The Schüco ASS 77 PD sliding door system is integrated in the Schüco FWS 35 PD mullion/transom façade system for an even profile transition with no offset. Both systems have extremely narrow profile face widths, but also achieve a high level of thermal insulation up to passive house level.
Planning benefit
Excellent design with high-quality appearance: all-glass corner without distracting profiles for maximum transparency in the corner area
System components for connecting Schüco sun shading systems: reduction in cooling loads and energy consumption in the building
Seamless visual integration of Schüco opening units with a high level of planning reliability, e.g. with the Schüco AWS 75 PD.SI Panorama Design window system and the Schüco AWS 114 and Schüco AWS 114.SI window systems as projected top-hung and parallel-opening vents with concealed Schüco TipTronic actuators
Visually unobtrusive system components with minimal thermal bridging: perfect integration of Schüco sun shading systems in the façade, even with extremely narrow profiles
Register now..
Work material (e.g. tender specifications, BIM objects, CAD data, catalogues)
Note content
Direct contact to Schüco