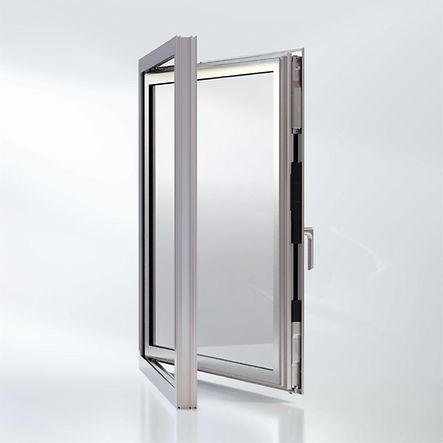 Concealed mechatronic fitting with a focus on minimised noise development and maximised opening widths.
Schüco TipTronic SimplySmart sets new standards for concealed actuator technology. The fittings system not only represents the quietest mechatronic Schüco actuator on the market, but is also a fully-tested system consisting of an actuator, fitting and profile system. Increased opening widths and flexible unit sizes also allow Schüco TipTronic SimplySmart to be used in almost all Schüco window systems with various opening types.
Integrated into the building automation system, the extremely smooth fittings series fulfils the most varied of requirements concerning energy efficiency, comfort and security in commercial projects as well as in residential properties
Schüco TipTronic SimplySmart uses modular security locking to lock the window at multiple points and provides increased burglar resistance up to class RC 2  (WK 2). In addition to the integrated finger-trap protection software in safety class 2, Schüco also offers finger-trap protection with a sensor strip, which reacts to even the slightest contact with any part of the frame and corresponds to safety classes 3 and 4.
The mechatronic fittings system offers a wide range of energy-saving functions, e.g. crack ventilation, timed ventilation and night-time cooling.
Opening widths up to 500 mm as well as 750 mm for the "drawbridge" opening type ensure a high level of user comfort with daily ventilation.
Planning benefit
No impact on the appearance: All components are fully concealed when installed
Fully tested system consisting of an actuator, fittings and profile system
Can be used in virtually all Schüco window profile systems
All finger-trap protection classes covered from safety class 1 to 4: Can be used in all areas
Wide range of applications with energy-saving functions: e.g. crack ventilation, timed ventilation and night-time cooling
Burglar resistance: System tests up to class RC 2  (WK2)
Adherence to all standard requirements, e.g. watertightness, sound reduction and thermal insulation